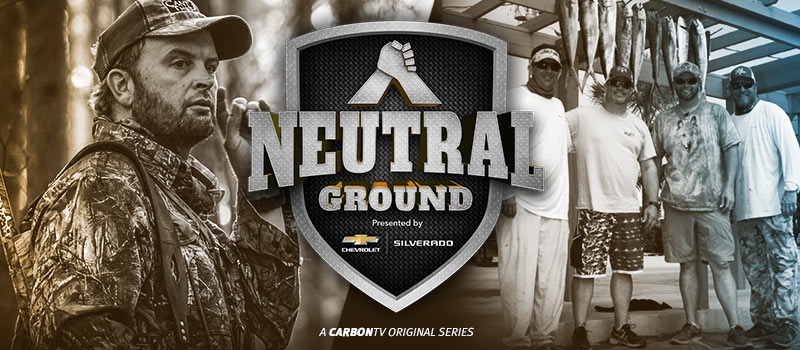 DETROIT, MI — October 5, 2017 – CarbonTV debuts the brand new series "Neutral Ground," presented by Chevy Trucks, featuring Bone Collector founder Michael Waddell. "Neutral Ground" is available on-demand for free on www.carbontv.com and related CarbonTV OTT apps.
In the six-episode mini-series, Waddell is joined in the outdoors by Bone Collector colleague and friend Jackson "Boo" Bishop. First, the hunting pros go on a multiple day turkey hunt in Alabama, alongside two "average joes," with no prior knowledge of the lay of the land and relying solely on their skills as seasoned hunters to succeed – thus putting them on "Neutral Ground" with the joes. The teams challenge one another to see who will land the first turkey. The two "average joes" are fans Kyle Edie and Dillion Dixon, who received the opportunity to hunt with Waddell after winning a fan video submission contest on Waddell's Facebook page that received thousands of entries in early 2017. View original casting call video at www.facebook.com/BoogerBottom/videos/10154820129121558.
After the hunt, Waddell and Bishop mix things up by heading to the Florida Keys for the first time and immersing themselves in deep sea fishing. With roles now reversed, they will have to apply their fresh new skills to compete against each other and professional fishing boat captains for who will reel in the largest fish.
"We are very excited to work with Michael Waddell and his team on Neutral Ground," says Kelley Wolf Griffith, VP of Production at Carbon Media Group. "He is a great fit for our CarbonTV Originals."
Waddell co-hosts the television shows "Realtree Road Trips" and "Bone Collector," and serves as the national spokesperson for the National Wild Turkey Federation.
Watch "Neutral Ground" now: http://www.carbontv.com/shows/neutral-ground/seasons/1/episodes/1